Being the largest Greek island, Crete is blessed with an abundance of divine beaches and immaculate villages. If you are planning a holiday to this island, you would do well to explore (at least) a few of the places on this list.
Best Beaches
Crete's coastline is beautiful and whether you plan on staying in the north of the island or the south, you will find beaches that rival those of the Caribbean. However, if you are looking for the best Crete has to offer then check these out.
Balos
Located in the region of Chania, Balos beach is quite possibly the best on the island featuring turquoise waters on both sides of a short, white sand strip. What makes this beach even more breathtaking is the Castle of Gramvousa, a sixteenth-century, Venetian ruin which overlooks the beach.
Image by Borja Santacruz Fabregues, used under Creative Commons license (CC BY 2.0)
Plakias and Preveli
The beaches of Plakias and Preveli, both located in the Rethymno province, speak to the soul with their natural beauty. Plakias is a typical bay of golden sand: the looming mountains that surround it make it one of Crete's finest. Preveli on the other hand, has a large, emerald river that runs through lush greenery, through the actual beach, to the sea.
Matala
The Heraklion region also has two of the best beaches in Matala. Although both are just over an hour's drive from Heraklion city, they are well worth the journey. The bay of Matala is stunning with a sandstone cliff, etched with caves, shielding the beach.
Best Villages
There is nothing finer than a quaint Greek village and the best of Crete are magnificent. Just remember to probe the history, devour the local cuisine and check out the brilliant, local festivals.
Rethymno Town and Anogia
The old town and port of Rethymno retains much of its Venetian charm and is incredibly well preserved. It is a lovely place to wander and to admire the beauty of Crete's architecture. Waiting to be explored, and overlooking the town, is the ancient Venetian Fortezza (Fortress).
An hour's drive from Rethymno, the village of Anogia is the place to go to experience the culture of Crete. Traditional, picturesque and full of charm, it will melt your heart. Don't miss the Yakinthia Festival (25-28 July) dedicated to love and hope.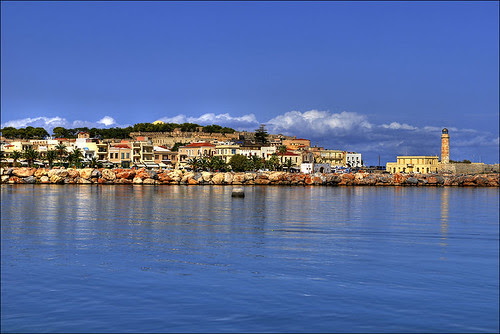 Image by Romtomtom, used under Creative Commons license (CC BY 2.0)
Archanes and Houdetsi
Archanes is a beautiful, mountainous village with colorful buildings and cobbled streets. At a mere 30 minutes' drive from the city of Heraklion, it is not to be missed. It is also nearby to Houdetsi, a village that really comes alive in August with a four day music festival celebrating local arts, crafts and cuisine.
Pano Gouves
Located in the popular resort area of Gouves, the traditional village of Pano Gouves provides some spectacular views thanks to being built on the side of Mt. Ederi. There are lots of churches to admire in this village and the Palace of Knossos, considered Europe's oldest city, is only 20 kilometers away.
Best Opinions
What do you think of our choices? Are there any villages or beaches that you think should be on our list? Let us know below.